Thank You to Our Sponsors!

University of Missouri System
University of Missouri-Kansas City
-Alianzas – IHD
-Division of Diversity and Inclusion
-Latina/Latino Studies
University of Missouri-Columbia
-Office of the Vice Provost for International Programs
-Cambio Center
-College of Agriculture, Food and Natural Resources
-College of Education
-Truman School of Public Affairs
-Chancellor's Diversity Initiative
University of Illinois Extension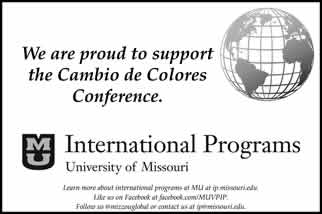 Sponsorship opportunities
Your institution can help advance the sharing of research and best practices on immigrant integration in new destination areas in the Heartland by sponsoring the Cambio de Colores 2015 conference. This unique conference brings together diverse sectors of our communities around the issues of health, education, economic development, political participation, and integration.
Sponsorship opportunities are available, and funds are needed to ensure the success and sustainability of the conference. If your institution is interested in gaining exposure and supporting the 2015 Cambio de Colores conference and its mission, please consider sponsoring it financially. Please download the Sponsorship Packet for more information, or contact decolores@missouri.edu.
Diamond Conference Sponsor - $5,000.00 and over
• Banner or poster in a central location in the main room
• Free table in the exhibit area
• Full-page color advertisement on inside cover of the program
• Acknowledgment with a logo on the front cover of the program
• Free advertisement on our website: www.cambiodecolores.org (this includes a link to your home page)
• Free table seating for eight people at event of choice (luncheon or dinner)
• Opportunity to distribute your company's brochure, coupons and other marketing material plus a gift/giveaway to be included in the attendee pack


Gold Sponsor – $2,500.00
• Banner in the main room
• Half-page advertisement (on inside covers) in program
• Acknowledgment with a logo on the back cover of program booklets
• Free advertisement on our website: www.cambiodecolores.org (this includes a link to your home page)
• Free table seating for four people at event of choice (luncheon or dinner)


Silver Sponsor - $1,000.00
• Acknowledgment in program and website: www.cambiodecolores.org
• Quarter-page advertisement in the program


Bronze Sponsor - $500.00
• Acknowledgment in the program and website: www.cambiodecolores.org
• Business card-sized advertisement in the program

Questions about sponsorships can be addressed to:

Domingo Martínez: Cambio de Colores Director
301 Gentry Hall University of Missouri-Columbia
Columbia, MO, 65211
(573) 882-4746
DMartinez@missouri.edu
Lindsey Saunders: Coordinator, Cambio Center
301 Gentry Hall University of Missouri-Columbia
Columbia, MO, 65211
(573) 882-2978
SaundersL@missouri.edu
Past Sponsors
The following companies and institutions are among the sponsors of previous Cambio de Colores conferences:
Anheuser Busch

Bank of America

Commerce Bank

Enterprise Rent-A-Car

Ewing Marion Foundation

Francis Family Foundation

Health Care Foundation of Greater Kansas City

Mercy Health Plans of Missouri

Missouri Foundation for Health

Monsanto Co.

Premium Standard Farms

Saint Louis University

State Farm Insurance

Tyson Foods

U.S. Bank

U.S. Department of Health & Human Services