This is an archival site for the fourteenth Cambio de Colores conference (2015). Current information is available at www.cambiodecolores.org

Latinos in the Heartland
Shaping the Future: Leadership for Inclusive Communities
June 10-12, 2015
Kansas City, Missouri
Cambio de Colores is a multistate conference about integration of immigrants in new destinations in the Midwest.
It is a professional development opportunity that engages practitioners, researchers, and those working with immigrant communities
in sharing experiences and knowledge that facilitate the integration of immigrants in new settlement areas.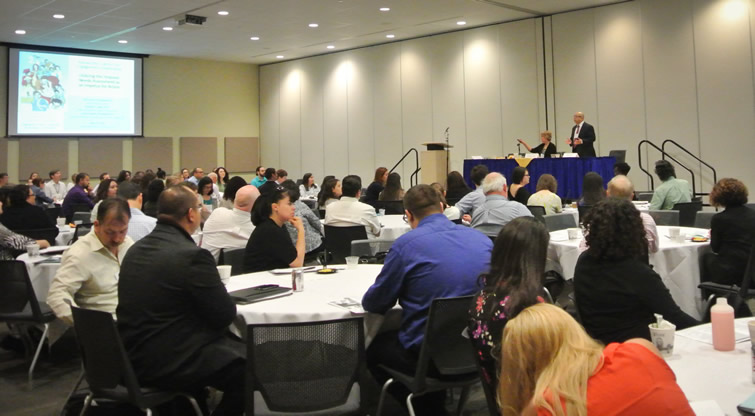 This year's conference was an exciting gathering of practitioners, researchers, educators,
community members, students, and other professionals from across the Midwest and the United States.
Many thanks go out to everyone involved: presenters, plenary speakers, site visit hosts, conference organizers,
our hosts at UMKC, participants, and of course the actors from Vang.
This energetic annual meeting of people working from different disciplines, locations, and approaches
to immigrant integration continues to grow and foster new ideas through the exchanges
of research and best practices across many fields.
Draft of Presentation Abstracts and Presenter Bios
Timelines:.
June 10-12, 2015: Fourteenth Cambio de Colores – Latinos in the Heartland conference:   Shaping the Future: Leadership for Inclusive Communities

June 29, 2015: Powerpoints and other materials will be posted to the Program page. Presenters who would like to share their materials should send them to

decolores@missouri.edu

.

August 17, 2015: Deadline for submission of papers for publication in Proceedings
Announcements:
June 12, 2015: Thanks to all participants, presenters, hosts and organizers for an excellent conference! With over 165 people in attendance from 17 states, the conference was an inclusive discussion.

June 4, 2015: Pre-Conference Registration is now closed. You may register at the conference, starting at 11am on June 10th, in the UMKC Student Union, outside room 401AD.

May 27, 2015: VANG: A Drama about Recent Immigrant Farmers, will be performed on June 11 at 7:30pm, as part of the conference. It is Open to the Public and Free for Everyone. See the

flyer here

.

May 21, 2015: Due to strong demand, the on-campus housing reserved for the conference is quickly running out. Reservations for campus housing must be made by May 22.

April 23, 2015: Draft Program is now available

here

.