All presenters bios also available
Plenary Speakers
Change and Integration
Eva Millona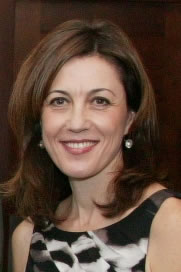 Eva Millona is the Executive Director of the Massachusetts Immigrant and Refugee Advocacy Coalition, the largest advocacy organization in the Commonwealth representing the foreign born. She has been with the organization for over ten years, working as the director of Policy and Advocacy and as Deputy Director. Prior to joining MIRA in July, 1999, Eva directed the resettlement program in central MA. In her native Albania, she practiced civil and criminal law. From 1989-1992, Eva served as a judge in Tirana's District Court. Outside of MIRA, Eva is also the co-chair of the Governor's Advisory Council on Refugees and Immigrants and also serves on the U.S. Commission on Civil Rights.

She is the recipient of the 2009 U.S. Citizenship and Immigration Service's Outstanding American by Choice Award, the 2007 Political Asylum Immigration Representation Project (PAIR) Detention Attorney Award, and the 2007 National Lawyers Guild Legal Professional Award. Most recently, Wainwright Bank awarded her the prestigious 2010 Social Justice Award.
Westy A. Egmont
Egmont served as the long time president of the International Institute of Boston, serving both Massachusetts and New Hampshire with a full array of immigrant services and refugee resettlement. He is co-chair of the Massachusets Governor's Advisory Council on Refugees and Immigrants and served as the co-chair of the National Immigrant Integration Conference held in 2010. For a term, he served as chair of the national network of the US Committee for Refugees and Immigrants and as a professor of practice at Boston College, he teaches social policy and immigrant social service courses.
Prior to his current work, Westy developed the Greater Boston Food Bank, hosted a TV show on the NBC affiliate for 11 seasons and served religious organizations in New England and Kenya.
Sylvia Lazos (commentary)
Sylvia Lazos, Justice Myron Leavitt Professor of Law, served on the law faculty of the University of Missour from 1999 to 2003, and has been at the William S. Boyd School of Law since 2003, where she teaches Constitutional Law. She is an expert on civil rights, immigration and diversity, having published extensively in top law reviews. She co-authored a monograph, Cambio de Colores, recommending polices of incorporation and assimilation of immigrants in the Midwest, and conducted research of the immigrant community in Las Vegas, published in the Nevada Law Journal. The Latin Chamber of Commerce named her Educator of the Year, 2009. She was recently named Lincy Fellow at UNLV where she is working on English Language Learner education reform research with colleagues at the College of Education.
Civil Rights and Political Participation
Mary Giovagnoli
Mary Giovagnoli is the Director of the Immigration Policy Center, a division of the American Immigration Council (formerly American Immigration Law Foundation), in Washington, D.C. Previously, she served as Senior Director of Policy for the National Immigration Forum and practiced law as an attorney with the Departments of Justice and Homeland Security--serving first as a trial attorney and later as associate chief counsel for the United States Citizenship and Immigration Services.
In 2005, Mary became the senior advisor to the Director of Congressional Relations at USCIS. She was also awarded a Congressional Fellowship from USCIS to serve for a year in Senator Edward M. Kennedy's office where she worked on comprehensive immigration reform and refugee issues.
Mary Sánchez (commentary)

Mary Sánchez is a weekly syndicated columnist with Tribune Media Services, specializing in immigration, race, politics and culture. She also is an editorial columnist with The Kansas City Star. She received the National Clarion Award in 2007 for column writing and she was also a finalist that year for The American Society of Newspaper Editors Distinguished Writing Awards, having her columns published in "Best Newspaper Writing 2007," published by The Poynter Institute.

Sánchez also writes a monthly column for Poder, a business magazine geared to Latin America and has been a correspondent for EFE, a wire service based in Madrid, Spain. Sánchez has lived in Mexico and traveled extensively in Central America. She is a native of Kansas City, Missouri.

Education
Juan Sepúlveda
Juan Sepúlveda was appointed by Secretary of Education Arne Duncan on May 19, 2009 to the position of director of the White House Initiative on Educational Excellence for Hispanic Americans. In this capacity, he is responsible for directing the efforts of the White House Initiative in engaging Hispanic students, parents, families, organizations, and anyone working in or with the education system in communities nationwide as active participants in improving the academic achievement of Hispanic Americans.
For the last 20 years, Sepúlveda has been a senior executive, strategist, and advocate in the nonprofit and philanthropic communities, with a focus in community development, capacity building, and transformational management. Prior to assuming his current position at the Department, Sepúlveda was president of The Common Enterprise (TCE), which he founded in 1995 as an outgrowth of a national Rockefeller Foundation initiative to help build stronger communities across America by making nonprofits, philanthropic organizations, governments, businesses, and communities more effective as they tackled significant critical social issues in more than 35 states and nationally.
Health
Nancie McAnaugh
Nancie McAnaugh is a Project Director at the Center for Health Policy at the University of Missouri-Columbia. She joined the Center for Health Policy in December, 2010 and serves as the Education and Outreach Director of the Missouri Health Information Technology Regional Assistance Center and leads CHP's Missouri Health Equity Collaborative (MOHEC). Prior to joining the Center for Health Policy she was Deputy Director/Chief Operating Officer at the Missouri Department of Health and Senior Services (DHSS). Ms. McAnaugh has held many leadership positions, including service as the former Director and Deputy Director of the Division of Senior Services and Regulation (2003-05), Chief of the Office of Governmental Policy and Legislation in the Department of Health and Senior Services, (2002-03), Senior Budget and Policy Analyst in the Governor's Budget Office in Missouri (1998-2002), and Project Director for the Center for Interdisciplinary Geriatric Assessment at the University of Missouri-Columbia, (1997-98). Additionally, Ms. McAnaugh was a state delegate to the 2005 White House Conference on Aging.
Entrepreneurship and Economic Development
Zola K. Moon
Dr. Moon has conducted sociological research at the University of Arkansas for over 10 years. She received her Bachelor of Arts degree in chemistry from Hendrix College, Conway, Arkansas and both her Master's in Sociology with an emphasis in rural sociology and PhD in Environmental Dynamics from the University of Arkansas. Her research interests include rural and community development, natural resource sociology, migration, demography, and rural health issues; she has particular expertise in spatial and statistical modeling. She has done fieldwork in Haiti, Vietnam, and the rural South. Outside the academic arena, she is an active volunteer in Scouting and youth activities as well as community outreach for marginalized populations.
Rosanna Saladin
Rosanna Saladin is currently at the Institute on Family and Neighborhood Life at Clemson University. She is Marketing Coordinator for the Hispanic program at the Center for Community Services in Simpsonville, South Carolina. She also works as an independent Social Marketing and Media Consultant for several programs targeting Hispanics, including Hispanic Access Foundation's "Juntos Podemos Contra el Cáncer" campaign. Previously she was the Social Marketing Manager with Population Services International in the Dominican Republic and led several projects with diverse at risk populations within the country. Her main interest is in applications of social marketing, research on prevention, and intervention efforts aimed at minority and at risk children and families.
Abelardo Rodríguez
Abelardo Rodríguez is an Assistant Professor and Community Economic Development Specialist, Department of Agricultural Economics and Rural Sociology, University of Idaho, Moscow. He is interested in the economics of Latino labor force and migration; economic base analysis and entrepreneurship, and community driven economic development. He worked 16 years in South and West Asia, North Africa and Latin America as a research scientist, regional coordinator and program manager. As a consultant in Afghanistan he assessed the risk and vulnerability of urban, rural and nomadic populations; domestic and international migration; poverty, cultivation of illegal crops and economic development. He holds a PhD in natural resource economics from Colorado State University and a BS in Biology from the Universidad Nacional Autónoma de México.
This page updated:
4 June, 2011
---